Cosmo.ru: Protection From Copypasters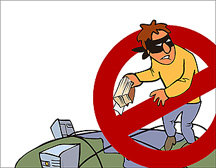 Internet project www.copyguard.ru and Publishing House Independent Media Sanoma Magazines have concluded a contract to stop the illegal publication of Cosmo Russia articles on the Internet. This is the first project of its kind in the Russian Internet.

Online violation of copyright has unfortunately become a tradition in Russia and many other countries. The copy-pasting of articles without citing the original source leads to audience loss and affects ratings and advertisers' interest. Moreover, such website are often cited as the original source by other websites.

Today Cosmo.ru is one of the most popular online female magazines. It offers the readers its own content together with Cosmopolitan articles. Texts written in the Cosmo style have always been very popular among female audience. No wonder copypasters find those texts attractive. Every now and then, the website's editors see copied Cosmo articles here or there.

But now Copyguard will help Cosmo.ru monitor and search for copied texts and interpretations of articles, check the links to original source and the author, and contact the violator immediately.

The top priority of this partnership is to detect copy-pasting websites and systemize the data. In the nearest future the program will be notifying the violating sites, their owners and hosting providers automatically immediately after the violation is detected.