Cosmo.ru: Life In Color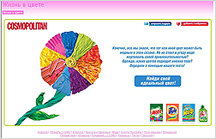 The website Cosmo.ru has launched a special advertising project called "Life in Color" for such Procter&Gamble brands as Ariel, Tide, Mif and Dreft.

Visitors to the site are offered two tests. The first tells the temperament and allows the visitor to find out her personality type: sanguine, choleric, melancholic or phlegmatic. Then she gets recommendations concerning suitable colors of clothes that match her personality.

The second test helps find what type of physique the visitor has: winter, summer, autumn or spring. The test then suggests which colors of makeup will be the best fit. Thanks to the tests, a visitor finds out what color is perfect for her physique type and temperament.

The accent of vivid colors helped Cosmo.ru offer an ideal advertisement: visitors could find out what colors suit them best and at the same time they would receive advice how to take care of their clothes. A nonintrusive advertisement at the end of each test tells the visitor that Ariel, Tide, Mif and Dreft will help them to keep their clothes full of color for a long time.