Esquire's New Flat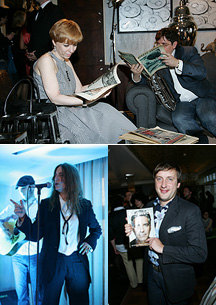 The Esquire Apartment officially opened on June 11. Famous American singer and poet Patty Smith was appointed the headliner of the party. Guests were so delighted with her performance that they kept applauding for ten minutes after the 1.5 hour concert had finished.

That morning, Patty Smith took part in a press conference dedicated to the Esquire Apartment in the Kopernik house. She shared her emotions about Moscow with the journalists thanking Esquire for this invitation and warm welcome. Patty decided to wear a man's suit for the performance, in keeping with the magazine's spirit.

More than 200 guests came to the party, including Ivan Dykhovichny with spouse Olga, Tatiana Arno, Marianna Maksimovskaya with spouse Vasily Borisov, Alexander Zeldovich, Oleg Kulik, Chulpan Khamatova, Andrey Makarevich, Alice Khazanova, Tatiana Grindenko, Nikolay Khomeriky and others.

Famous designers and representatives of design bureaus who took part in the project were invited as special guests: Jean-Yves Lanvin (Design Project by Jean-Yves Lanvin), Vladimir Stroganov (Patrick Robert Design), Ezio Danelutti (Smania Casa), Martin Voller (Andrew Martin), and Bernie De Le Cuona (De Le Cuona).

The guests strolled along the apartment enjoying famous 1930s-style Courvoisier-based cocktails and appetizers from the restaurant Observatoria while smoking Davidoff cigarettes. The restaurant Observatoria prepared a special course for the event - tartar made with Japanese marbled beef. The musical atmosphere of the evening was in the hands of Alissid Jazz and the Jazz Dance Orchestra bands.

The project will last for six months. On July 2 it will host the Moscow premiere of the new film by Kirill Serebrennikov, member of Kinotavr-2008. Other events are in the works: a gastronomic fest, photography party, unplugged parties and nocturne literature readings. The project will close in December 2008.

Official sponsors of the opening were residential cooperative Kopernik, Davidoff Cigarettes, Courvoisier brandy, Infiniti and restaurant Observatoria.