Cosmopolitan And The Cities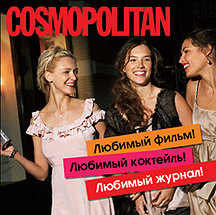 The highly awaited Russian premier of the Sex and the City movie took place on June 19. However, the film was shown on June 17 at the Pushkinsky cinema for the partners and advertisers of Cosmopolitan magazine.

No invitee missed the film - stars, journalists, partners and friends of Cosmopolitan made sure their seats were not taken by someone else. Victoria Dayneko, Alena Vodonayeva, Daria Subbotina, Oksana Lavrentyeva and many other celebrity-admirers of SATC came to watch the movie.

The sponsor of the premier, Cointreau liquor, offered the guests Cosmopolitan cocktails and presented them mini shakers for domestic cocktail-making.

The pre-premier show sponsored by Cosmopolitan and Love Radio station took place on June 18 in the cinema Udarnik. Listeners could win tickets in a contest held by the radio station, while Cosmopolitan placed invitations in every 100th copy of its June issue.

Guests were happy to watch the movie in a friendly atmosphere. Before the show, host Stas Danilin awarded three winners with special prizes from Love Radio and Cosmopolitan.

The St. Petersburg premier took place on June 18 at Mirage Cinema. A loud afterparty was held in Seven Sky Bar, one of the city-s most fashionable cocktail bars. Sweet compliments from the chef, 1500 Сosmopolitan cocktails from Russian Standard and never-ending music made the evening unforgettable. The guests were welcomed by Daria Aleksandrova, the presenter of the show Details (STS channel), and the band Non Con Denza performed hits and cover versions from the famous series.

The main surprise of the evening was a huge cloud-like cake with the phrase "Sex and the City" on it. The honor to take the first slice went to Natalia Dudiy, chief editor of Cosmopolitan Petersburg. And Flower House Ginza Project presented two gorgeous decorative flower logos of Cosmopolitan Petersburg and Sex and the City.

There were other Cosmopolitan pre-shows of the movie on June 18: in Ekaterinburg (Titanic Cinema) and Novosibirsk (Pobeda cinema).

The movie is based on the hit HBO series of the same name. The SATC pilot was shown in 1998 and the show lasted six extremely popular seasons, until 2004. The series has been nominated for 50 Emmy awards and received 2 SAG awards in the "Outstanding Casting for a Comedy Series" nomination. SATC was also nominated for the Golden Globe 24 times and has won the award "Outstanding Comedy Series". Sarah Jessica Parker and Kim Cattrell were named best leading and supporting actresses consequently. The movie is set four years after the series closing episode and tells us about the lives of Carrie, Samantha, Charlotte and Miranda.