New Advertising Format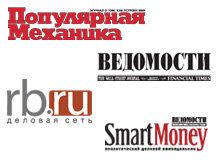 Independent Media Sanoma Magazines together with the InterPool agency is implementing a brand new advertising format called Imedia AdSmart. This method is applied to online Independent Media advertisement placement at RB.ru, Vedomosti.ru, Smoney.ru and PopMech.ru.

Each of these projects has a loyal active core audience. At the same, however, time part of each project's audience overlaps with that of the other projects. The Imedia AdSmart system allows advertisers to reach the audiences of all those projects without placing ads individually at each website.

"Imedia AdSmart is based on the auditory method, said Valery Telepov, director of InterPool. "This new approach to advertising combines interaction between the advertisement and the customer with attitude to price setting".

This method is based on the principle that the targets of a campaign determine the best and necessary number of contacts with the target audience for the whole campaign. This is applied to all projects of a block while the chosen frequency is limited by special advertisement display techniques.

The advertisement is shown only when the system identifies the user as unique. The displays continue until the unique hosts number reaches the point stipulated by the campaign.

"If the visitor has not reacted to the advertisement showed to him 2-3 times there is no need to continue showing him those advertising materials", explains Valery Telepov.

As a result, advertisers pay for profound contacts with their target audience, which contributes to the efficiency of the advertising campaign.

"We have united several online business resources into a pool of advertising. Thus we have created an entire core product audience. This will help advertisers minimize expenses on audience penetration because audiences are no longer intercrossed. At the same time, the cost of each source audience contact is averaged out," says Marina Matytsina, head of Business Online IM.