Cosmo-card is Brand of the Year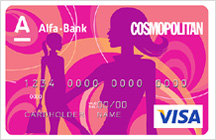 The Alfa-Bank-Cosmopolitan-Visa "Easy Shopping in Cosmo Style" card was named Brand of the Year Effie-2007 in the "Financial Organizations" category for successful promotional campaign project.

The Brand of the Year Effie rewards the most successful projects in the brand construction category. The Russian awards ceremony was held on April 7 at Manezh Central Exhibition Centre.

The project was launched in February 2007 and has distributed more than 50 000 cards to date. This project is a unique bank offer created especially for young women and girls according to their needs and lifestyle. The card itself can be either credit or debit. It can replace a whole range of discount cards and gives the holder the opportunity to shop with discounts in partner-shops, beauty parlors, restaurants, etc.

"This award is really precious for us, but nevertheless, customer loyalty is even more important", says Ludmila Agafonova, marketing director for Cosmo group of editions, "Customers have appreciated the card and they frequently use it while shopping. Cosmo and partners are happy to give our readers an opportunity to shop with profit in Cosmo style".

"We are very happy that the -Easy Shopping in Cosmo Style- campaign was honored with such a significant international award", says Kirill Turbanov, marketing director for Alfa bank. "This is a result of team work performed by our bank experts together with Cosmopolitan".