Cosmo Card Turns One Year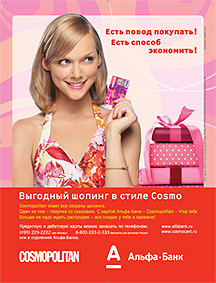 The first Alfabank-Cosmopolitan-Visa bank card was issued in March 2007. More than 40 thousand girls in over 25 Russian regions became happy holders of this convenient plastic device in just one year.

The promo action "Bring Your Friend" started in November, when 5 thousand holders advised their friends to purchase the plastic cards and were rewarded with wonderful presents. Those who followed their advice were not left without surprises.

This year saw many similar projects. Cosmo readers saved over half a million dollars using their Cosmo Cards in more than 500 partner shops, beauty parlors and restaurants. Holders of the Cosmo Card receive regular discounts and participate in club sales. The later were held before New Year in Moscow, Saint Petersburg and Rostov-on-Don. And those living in Moscow received invitations to Moscow Fashion Week.

The partners plan to develop various programs for Alfabank-Cosmopolitan-Visa holders that will feature new promo actions, sales and presents.