New Appointments in Independent Media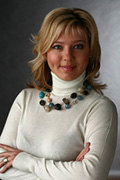 Some personnel changes went into effect at Independent Media Sanoma Magazines on January 1, 2008. Custom Publishing director Elena Razumova was appointed the editor of Grazia magazine, and she will be supervising Prime Traveller as well. Galina Ustinova will head Custom Publishing now, and at the same time she remains the editor of the newspapers Na Rublevke and Na Novoy Rige. Olga Sergeyeva will remain the chief editor of Seasons, and she is appointed the editor of this magazine.

Elena Razumova graduated from Moscow State Linguistic University with a specialty in translation. Before Independent Media she worked for Ernst & Young, heading their Executive Search Service. Elena has started her career at the editorial house in 1997 as senior advertising manager for Cosmopolitan. In 1998 she became the advertising director of the magazine Kult Lichnisti and in 2000, Elena was appointed the editor of Harper's Bazaar, where she successfully worked for the next 7 years. In the end of 2006 Elena was appointed the director of the Custom Publishing department, a quickly growing and developing section of the company.

Galina Ustinova graduated from Moscow State University (economic department) and took postgraduate studies in political economy. She has been working in Independent Media since October 1995. She worked in the newspaper The Moscow Times as advertising manager in Job Opportunities and the department of advertisements on screens. She worked with the biggest financial and industrial companies and holdings, Russian banks, consulting and telecommunications companies, etc. In January 2007, Galina was appointed advertising director of the newspaper Na Rublevke. In December 2005, she was appointed chief editor of the magazine Seasons.

Olga Sergeyeva graduated from Moscow State University (department of journalism) in 1995. She started working for Independent Media in November 1996, when the first issue of Marie Claire was on its way to publication, and she has worked as chief deputy editor in this magazine for 5 years. In November 2002 she was appointed chief editor of the Seasons.