Independent Media is a Dream Employer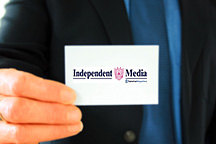 According to a poll taken by the Aktsiya industry newspaper, Independent Media Sanoma Magazines (IMSM) was part of the "50 Best Employers for Young Employees" list.

The newspaper used the concept and the methods of the The Times Top 100 Graduate Employers (The Times), The 100 Most Desirable MBA Employers (Fortune), Top Entry Level Employers (CollegeGrad.com) and 100 Best Companies to Work For (Fortune).

The research was divided into two stages and lasted for five months. The first stage involved graduates with up to two years experience who took part in polls at the spring career fair and online at career.akzia.ru. The results of these polls were used to make up the abovementioned list and the list of Top Five Companies in the 10 most prospective segments of the market.

At the second stage, leading HR experts from agencies and universities rated the companies of the Top Five. Four criteria were applied: rapid career growth, level of salaries on low positions, cost of graduate employees on the labour market and adaptation conditions for young employees within the company. The experts made up their rating, and the best companies in 10 market segments were chosen according to each criterion.

According to both graduates and experts, Independent Media places in the Top Five among mass media, PR and advertising companies.