Cosmopolitan Petersburg is 5 Years Old!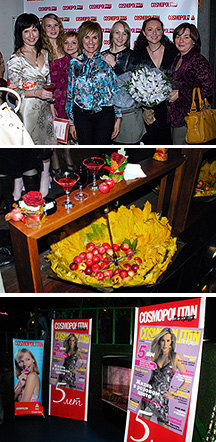 Cosmopolitan Petersburg celebrated its 5th anniversary in October. The magazine decided to mark this important date with a bash where its most devoted readers, partners and friends could have the best time possible.

The birthday party took place in the restaurant Moscow on 24 October, under the slogan "Cosmopolitan Unlimited". 400 guests - partners, friends, local celebrities and journalists - came to the party. The first musical surprise was the performance of the band Gorod 312. Then Victoria Daineko sang her hits, and after that the band UniDance kicked off the discotheque. Guests received many presents, including masterpieces from the restaurant's chef.

However, that was not all. The next day brought a concert by Moscow's Brothers Grimm in the Royal Beach Club, one of the most popular clubs of Saint Petersburg. Gorgeous MTV VJ Myata hosted the event. She entertained the public with various contests that offered prizes from our partners. In addition, Cosmo readers had a look at the latest fashion trends presented by Mexx. The cocktail Cosmopolitan, together with the sounds of popular DJ KhaMillion, made the night unforgettable.

That is how Cosmopolitan Petersburg spent its 5th anniversary. The smiles and best wishes of the guests gave the team plenty of spirit for future work.