Autumn Surprise from Cosmo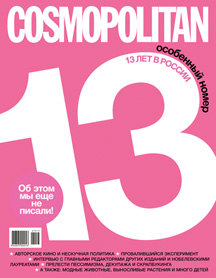 The 13th special issue of Cosmopolitan was published on October 30. The issue is timed to the 13th anniversary of the magazine.

This issue is very unusual.

"Like all magazines, we sometimes like to tweak our format by adding new topics and rubrics", says the editor-in-chief Elena Vasilieva, "But, of course, there are format limits - and that's what special issues are for! We have included in the 13th issue all the non-format topics that are interesting to our readers. We wrote about politics, children, non-office professions, pets and gardening, cooking, and really unusual fashion".

This issue will be on sale from November to January. It will be supported by an outdoor promotional campaign in Moscow and St. Petersburg during the first thirty days of sales.