First Autumn Spotlight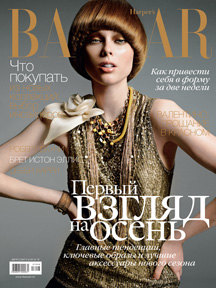 It's still summer, and the August issue of Harper's Bazaar recommends its readers go south for their vacations. How nice it would be to wear a light silken dress, feel the hot southern wind and dream of cool autumn! This type of summer meditation surely includes one of the most important questions of womankind: what will be in fashion next season? The magazine reveals the main tendencies and key images of the new season. Celebratory elegance expressed in the combination of coquetry, stiff-upper-lippness, clear silhouettes, the color black and a little bit of fur will definitely be a hit. We shall also keep the silk, shine and color in mind. Satin shoes and goffered clutches will be welcomed at any party. The most tempting accessories from the new collections bewitch the fashionistas with juicy fruit colors and gentle satiny shine.

Don't miss the article about the legendary designer Valentino Garavani. Soon to celebrate the 50th anniversary of his career, the maestro of elegant luxury and the adept of dolce vita reviews the season's collections. The epoch of impetuous expenditures and grandiose luxury is fading together with Valentino, but the beauties' best friend and the ardent admirer of the red color continues to be pleased with his life.

Modern art is in fashion now. What does the contemporary collector need? Impeccable taste, knowledge of the subject and market intuition. But the collection becomes "alive" only when there appears a special contact between the artist and the collector, which shall be based not only on the calculation, but also on personal attraction. The main collectors of Moscow tell the readers about their favourite artists and the noble hobby of collecting.

Jackie Getty invites the readers to her hospitable private residence. Her house has become the Hollywood bobo center because its mistress combines family, parties, friends, fashion and cinema.

Robert Downy Jr. is popular among the film directors and the press again. He is a born dandy, an irrepressible lover of life and a brilliant actor.

The readers will also learn everything about Debby Harry's new album and will be guided through all the most fashionable bars of summertime Moscow.