New Summer Chic At Harper's Bazaar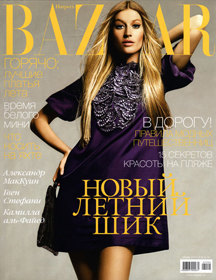 The June issue of Harper's Bazaar is dedicated to the new summer and new summer chic. Inside, readers will learn all about the very latest summer looks, from Afro-ethnic to the tried and true white pantsuit. Delicate lace can be matched these days with metal furnishings, floral prints now go with simple black and white beachwear.

There is much attention given to traveling and the rules of the road: how to go on vacation with just one suitcase and not have your style suffer; how to get the right cosmetics for the beach; should you take the man of your dreams on the vacation of your dreams? Traveling secrets are shared by Roberto Cavalli and Katrin Malandrino, and 9 well-traveled Muscovites tell about the vacations that changed their lives.

Also: An interview with singer and actress Gwen Stefani, video art classics from Mathew Barney, new openings and the lastest entertainments that big cities can offer.