Cosmo Siberia All in Chocolate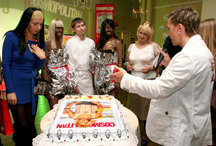 The March issue of Cosmopolitan Siberia turned out to be an anniversary release - the magazine appeared exactly three years ago. The birthday was celebrated in style on April 12, in one of the chicest and most popular restaurants in Novosibirsk, La Maison. On the guests list were advertisers, writers, and friends of the magazine - everyone who has helped make Cosmopolitan Siberia a success from the very beginning. These people were many in number, and a good time was had by all.

In keeping with tradition, Cosmopolitan didn't throw an ordinary party, but though of an original concept. In this case, it was chocolate. The invitations were in the forms of bars of chocolate bearing the Cosmo logo. Guests enjoyed a variety of chocolate desserts and presents. Cosmopolitan editor Natalya Pavelnko and Regional Publisher Yulia Ritchik greeted guests with a short speech, and the music was provided by Nuclear Los', whose soft jazz tones set the perfect mood for a chocolatey atmosphere. Guests participated in a variety of Cosmopolitan contests and collected prizes, including a years supply of chocolate, a chocolate hair wrap at a local salon a free tanning session at an ultra-modern salon, and much more.


All in all, the party was a great success, bringing to mind that popular children's song: "Too bad that birthday's only happen once a year". See you next April!