A Party in Honor of Grazia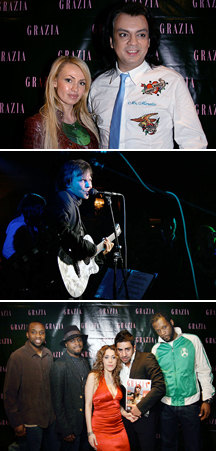 On March 29, the first issue of stylish weekly magazine Grazia went on sale in Russia. This event was celebrated with great fanfare on March 29 by the staff of the magazine and their guests at Next Door restaurant. The surprise of the evening was an unexpected concert by the Fugees, performing together with the legendary Pras, who was followed by perennial favorite Ilya Lagutenko. Everyone partied well into the night.

Among those who came to wish the publication luck were Filip Kirkorov, producer Yana Rudkovskaya, restaurant Bon co-owner Yevgeny Bakaev, party-girl Elena Nelidova, actor Konstantin Kryukov, television host Yekaterina Mtsituridze, and of course, friends and partners of the magazine. The evening's honored guests were the team behind the Italian version of Grazia from the Mondadori publishing house. Word is that both the party and the beauty of Moscow in the spring left quite and impression on them.

The crowd went so wild for the Fugees that they were forced to perform for twice as long as originally planned, and to play their hit, "Killing Me Softly," a second time. After performing, the band partied with the crowd and even danced to the tunes of Lagutenko. Unfortunately, Filip Kirkorov arrived late and missed their performance.