Cosmopolitan advertising campaign in April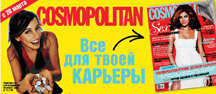 On March 19, an advertising campaign supporting April issue of Cosmopolitan magazine was launched.

A new issue is devoted to career and prepared under support of Vedomosti newspaper and Jobs & Careers. In the special project Cosmopolitan Profi female readers can find all necessary information to build their successful career. How to regulate a conflict with a boss? How to force money to work? How to find a way out of the career impasse? How to get a supplementary education? All these questions are covered on the special pages. There is also a bonus for all readers – "A New Нeight" competition in which the best vacancies from top companies (Alfabank, Procter&Gamble, MTS and others) are proposed.

The publication of the issue is fully supported. We use outside advertising (fire walls, city-formats, light boxes, billboards and light-emitting diode screens in Moscow, St.Petersburg, Novosibirsk, Rostov-na-Donu and Samara), television (15 seconds promo on TNT and Muz-TV) and radio Europe plus.

The issue is on sale from March 20.