Miss Shopping in Cosmo's Style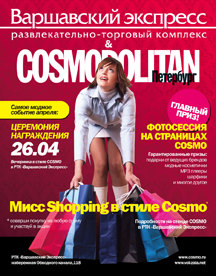 March 1-April 22 will see the St. Petersburg edition of Cosmopolitan magazine and trade complex Varshavsky Express join forces for the Miss Shopping Cosmo Style event.

A Cosmopolitan promo-stand, informing participants of the rules of the lottery has been placed near the entrance to the complex. There is also a professional photo studio near the stand.

Visitors who have made musical purchases and presented their checks become participants in a lottery. All of the customers get their picture taken and 1 in 10 receives a prize from Cosmopolitan.

Photos of participants are published on the Varshavsky Express website, and the site's visitor's select a winner every week.

The winner of the main prize - a photo session in Cosmopolitan - will be announced on April 26, the day of the competition's final.