Cosmopolitan in March: Two Issues in One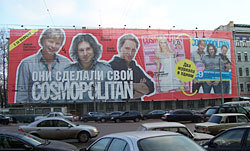 The March issue of Cosmopolitan contains two issues in one. On the magazine's back cover is the men's section, with readers' favorite Bublikov as editor-in-chief. In this issue readers will discover men's opinion of women's logic, beauty, vocabulary and difficult life. In addition, the issue includes results of experiments with Andrei Malakhov, Oskar Kuchera and Andrei Grigoriev-Appolonov. "They've done their best for you" at petrol stations and beauty salons!

The issue is being supported by a large advertising campaign. Large banners have appeared on Bolshaya Sadovaya St. in Moscow and Nevsky Prospect in St. Petersburg. In addition, the great number of city formats is placed on the central streets of two capitals. The campaign also includes a banner in the center of Novosibirsk, as well as advertisement on light-emitting diode displays and shields in Rostov-on-Don, Yekaterinburg and Samara. The advertising campaign continues underground in the central stations of St. Petersburg's metro. The commercial devoted to the March issue comes out on STS, TNT, Muz-TV and MTV channels, while radio announcements play on the Europa Plus radio station.