Cosmopolitan Release Books First Time Ever!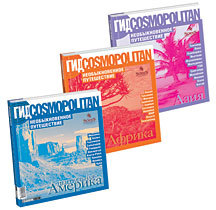 Fashion Books publishing house has released Cosmopolitan Guides, a series of books about the travels and adventures of its authors in the most exotic corners of the planet.

Cosmopolitan Guides tell about countries in Africa, Asia and Central America which are hardly advertised in travel guides and rarely visited by Russian tourists.
Safari in Kenya and see the snows of Kilimangaro in Tanzania, sea cows in Belize and dinosaur fossils in Lesotho, visit Bali's island paradise and ancient Khmer's capital in Cambodia. All this and much more you will find in Cosmopolitan guides.

In adddition, readers get a chance to win one of 500 prizes - suitcases and cameras for underwater photography.

Exclusive pictures! Extraordinary routes! A great deal of useful information!