A Really Good Jazz Esquire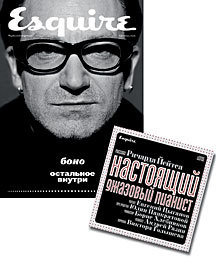 Every Esquire reader will receive Richard Yates' audio book "A Really Good Jazz Piano" as the supplement to the September issue.

Especially for Esquire, Victor Golyshev, the famous translator and laureate of "Small Booker" and several "Foreign Literature" awards, has translated "A Really Good Jazz Piano", a story by Richard Yates. The production was made by Boris Khlebnikov, director of Koktebel, which received prizes at the Berlin Film Festival in 2001 and the 25th Moscow Film Festival, and who received the Best Director prize at Konotavr 2006 for "Free Floating." The story was performed by Evgeny Tsyganov and Julia Pankratova. The music for the story was written by Andrey Razin, the best jazz composer of 2002 according to the Russian Association of Jazz Composers and the leader of "Second Approximation" a band which has toured all Russia and half of Europe.

The audio book was being recorded for several days at different sound studios. The text was recorded at one studio, while Andrey Razin's improvisation at another.

A booklet about the project and its participants is included in the envelope with the disk. The release of the audio book was supported by tobacco house Dunhill.

Inside the September issue readers will find a New York Times reporter's investigation of the Beslan tragedy, where all events are stated from the hostages' point of view; Irakly Kvirikadze's true stories about a trip on a wooden submarine and other sea adventures; life rules of musician Bono, economist Andrey Illarionov and playwriter Tom Stoppard. In addition, for the September issue Alexander Genis mused about the death of telegrams, employees of Teatr.doc eavesdropped and noted conversations of the museums' visitors, and experts were told how to have a dry mouth.