Cosmopolitan Beauty Turns Five!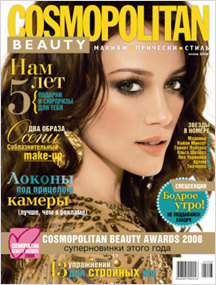 Milestone issue of Cosmopolitan Beauty went on sale on 5 September. Five years ago in 2003 Cosmopolitan Beauty – the first Russian edition about beauty care – was launched as a project.
The creators of the magazine have successfully used longstanding experience of British Cosmopolitan Hair & Beauty. Each issue was full of novelties in the beauty industry, latest trends, professional advice, tests and experiments, all written in Cosmo style.
The magazine has prepared a few surprises for the readers. They can find "beauty coupons" in the milestone issue of Cosmopolitan Beauty. These coupons give discount and presents in the best beauty parlors, perfume chains and fitness centers (Persona Lab, Sun City suntan studio, FizKult fitness clubs, and others).
Besides, the magazine starts a contest for the best article subject. The authors of the most interesting ideas will be awarded with a voucher to a special SPA-party which will take place in the largest Royal Rixos SPA which has a 25-meters swimming pool and a real sand beach. и настоящим песчаным пляжем.
This autumn Cosmopolitan Beauty is carrying out a joint promotion with PrimeStar fastfood chain. The most healthful items of the menu will be marked with special sticker "Cosmopolitan Beauty Reccomends". Now the readers can make a healthful choice much easier.