Harper's Bazaar Conducts Large-Scale Advertising Campaign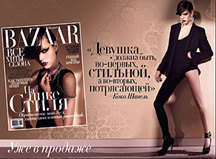 Harper's Bazaar will conduct a two-month advertising campaign this autumn to promote its October and November issues. The campaign will include outdoor advertising, as well as ads for television, radio, the Internet, glossy publications and points of sale.
Outdoor ads in the center of Moscow will consist of city-format and city-border signs as well as 3 m. x 6 m. billboards on Rublyovo-Uspenskoye Shosse. A Harper's Bazaar video trailer will run on the World Fashion Channel, and audio ads will air on Love Radio, Hit FM, Monte Carlo and Serebryany Dozhd (Silver Rain) radio stations. Internet ads will include a banner on the popular site Mail.ru.
Special attention will be given to BTL activity at point of sale locations in Moscow and the regions. The magazine will be sold in all chains selling printed goods -- including supermarkets and hypermarkets -- as well as in filling stations. Readers will find Harper's Bazaar in a full range of prominent displays such as pockets, grids, freestanding racks, light boxes and others. The promotion will continue through the end of the year.
Marketing and PR support will accompany the campaign, with the magazine acting as informational sponsor to major trend events in the art world and elite lifestyle happenings.