Harper's Bazaar Style Guide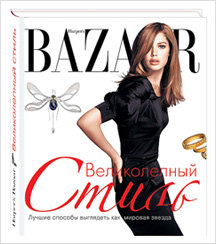 Harper's Bazaar and Eksmo Publishers announce the release of "Harper's Bazaar Great Style," in which author Jenny Levin presents the best style advice from Harper's Bazaar Magazine.
The book tells readers how to assemble a faultless wardrobe, and which clothing combinations will make you look dazzling. Famous actresses and models - true icons of style who are world-renowned for their ability to look great - offer practical advice and reveal their glamour secrets.
Harper's Bazaar is conducting a special promotion in connection with the book's publication: Every person who purchases the  book will receive a discount on a subscription to Harper's Bazaar magazine. Signed coupons with the discounted price have been placed in every copy of the book, and a sticker on the cover informs buyers of the promotion.
The book will go on sale at the beginning of October. It will be sold in all leading bookstores in Moscow and the regions.
Within the framework of an output(exit) of the book magazine Harper ` s Bazaar carries out(spends) the special action(share): discounts for a subscription on Harper ` s Bazaar to each customer of the book. Subscription coupons with the special prices are enclosed in all circulation of the book; on carrying out of the action(share) informs стикер on a cover.
The book will go on sale in the beginning of October and will be submitted in all conducting(leading) book shops of capital, and also in regions.