IMSM - Ranked Among Top Employers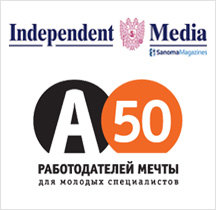 The Independent Media Sanoma Magazines Publishing House was included in the 50 Dream Employers for Young Professionals ranking by Aktsia newspaper.
The rating is designed to identify and evaluate the most attractive and outstanding employers for young professionals. The ranking's surveyors asked students, college graduates and young professionals with less than two years experience to identify the companies they feel offer the best career opportunities. To ensure an objective evaluation of the labor market, a second level of questioning was directed at experts, including recruiting agencies.
Independent Media was ranked among the top five mass media companies in the opinions of both young professionals and market experts.
Last year, IMSM was similarly ranked among the top employers in its sector.
In September 2008, IMSM Human Resources Director Elena Kozlova was recognized as the best in her field according to a rating by Kommersant newspaper and the National Managers Association.