A Spa Holiday with Cosmo Beauty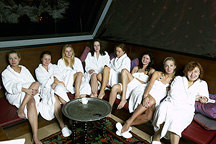 The winners of the Very Pleasant contest, who were announced in Cosmopolitan Beauty's 5th anniversary issue, spent a day with the magazine's editors at the marvelous Rixos Royal Spa - one of Moscow's swankiest - in the Yevropeisky (European) shopping center. The spa complex offers everything a person needs to unwind, get in shape or simply relax.
The editors thought inviting everyone to the spa center would be the most pleasant way to congratulate the 20 most loyal and creative readers of Cosmopolitan Beauty who had submitted the most interesting ideas for future issues of the magazine. And, of course, they were all happy to accept the invitation. Women from Moscow, Samara, Rostov-on-Don and other cities arrived as guests for the event.
The spa's oriental interiors, lounges, pool, banya (sauna) facilities, fitness rooms, simulated sandy beaches and attentive personnel made everyone feel like VIPs. After only 10 minutes together, they all felt as if they had known each other a long time, and that this was not their first meeting. What with all of the pleasant conversation, swimming in the enormous pool, partaking of fruit and tea with honey, the women failed to notice that the daylight coming through the windows had darkened into evening.
It was difficult to say goodbye, but the photo session with each woman and a group photo will bring happy memories and smiles for a long time to come. A more detailed account of the event will appear in the winter issue of Cosmopolitan Beauty.