Cosmopolitan Presents 13th Issue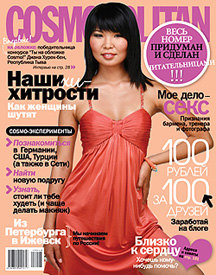 A special 13th issue of Cosmopolitan will go on sale in November. The contents of the entire magazine were created and executed by readers - the 10 winners in the Become a Cosmo Editor contest.
Women had submitted their suggestions for article topics, experimental ideas and people to interview. The magazine's editorial board chose the best contributors, who became "Team 13" and were given a few months to create this special issue.
A photo of one of the magazine's actual readers is printed on the cover of the Cosmo 13 issue -- a historical first. The subject, Diana Khurek-Ben of Kyzyl, was the winner of the Become a Cosmopolitan Cover Girl contest that the magazine conducted in cooperation with Oriflame. For three months, passions boiled over the contest on the www.cosmo.ru website, where readers voted and discussed the answers to the questionnaires submitted by the approximately 4,000 contestants. Eventually, the difficult choice was made. The 13th issue includes photographs and interviews with the contest finalists, as well as a photo report from the contest itself.
Radio stations Energy and LoveRadio are conducting advertising campaigns in support of the special issue.