Cosmopolitan: A Glossy in your Cell Phone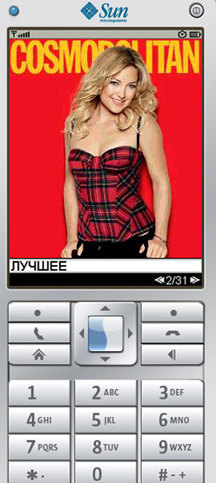 Independent Media Sanoma Magazines has launched a version of Cosmopolitan magazine made specifically for cell phones, and which can be used by millions of the magazine's readers in Russia and the CIS countries. The publishing house has teamed up with United Fun Traders (UFT), a company specializing in the delivery of innovative cell phone content in Russia and abroad.
For the last few years, UFT has worked successfully with major publishing houses to use its leading cell phone service to increase brand loyalty among consumers. Using breakthrough technology from Future Publishing, UFT created a mobile phone version of Cosmopolitan. This is the first glossy magazine to appear in that format.
The mobile magazine uses a Java applet supported by all modern cell phones sold on the Russian market, and which is currently free for users.* That means millions of people living in every corner of Russia and the CIS will have access to Cosmopolitan magazine.
The mobile version of the magazine contains the best and most topical content for readers - the Cosmo Announce, Cosmo Beauty, Cosmo Shopping and The Best of Cosmo sections. They are based on the electronic version of the magazine and include articles, advice, recommendations and much more.
Regarding the launch of the mobile version of Cosmo, IMSM Internet Projects Publisher Alena Shagina said, "A mobile magazine is not just a fashionable trend. It is a format providing indisputable conveniences. Now readers can quickly be informed of breaking news and read useful advice from Cosmo. I think readers will like the mobile version of the magazine we created in cooperation with UFT very much."
To access the mobile version of the magazine, readers must send a text message to number 4440 and include the extension code of the topic they want: Announce - 1206, Best of Cosmo - 1207, Beauty - 1208 and Shopping - 1209. They will receive a text response with a link where they can download the Java applet with the mobile version of the magazine. Each download delivers an updated version of the material.
Yevgeny Kosolapov, UFT General Director, commented on the company's cooperation with IMSM. "Mobile versions of top-rated publications have generated interest around the world as an excellent supplement. We are positive that the mobile supplement to Cosmo will stimulate interest in the print version and, in that way, heighten its appeal," Kosolapov said.
* SMS messages sent to number 4440 are free in many cellular networks, although some charge a nominal fee of up to 1.77 rubles, including taxes.