Harper's Bazaar: The Story of Marlene Dietrich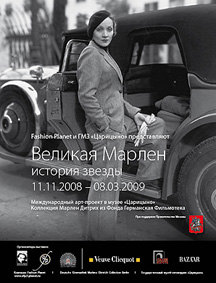 Harper's Bazaar magazine is the informational partner of the largest-ever art project dedicated to the life and work of world-famous movie star Marlene Dietrich. The exhibition, titled "The Great Marlene: The History of a Star," will run from November 11, 2008 through March 8, 2009 at the Tsaritsyno State Museum-Reserve.
The art project, intended to satisfy interest in Marlene Dietrich - the subject of a great many myths and misconceptions - gives the Russian public access to unique artifacts from the Filmmuseum Berlin, including objects never before put on display.
The project also aims to demonstrate Marlene Dietrich's role in the history of fashion. She inspired Christian Dior in the creation of his fashion masterpieces, and her artistic connection with the great Giorgio Armani enabled her to effect a revolution in fashion - with the result that men's suits became an inseparable part of women's wardrobes.
The 19 halls of the Grain House of the Tsaritsyno Museum holds a display of clothing and accessories from the actress's wardrobe that were created by world-famous designers such as Chanel, Elsa Schiaparelli, Dior, Irene, Jean Louis and Travis Banton. The exhibit also includes a collection of photographs, letters and documents, feature and documentary films in which Marlene Dietrich performed - including some from her personal archives - and much more. The exposition will be held in conjunction with a Marlene Dietrich film retrospective and other events.
As the informational partner of the project, Harper's Bazaar will present informational and advertising materials in the exhibition space. The magazine's logo appears on all of the exhibit's advertising and print products. The latest issue of Harper's Bazaar will be included in the presentation packet given to all VIP guests at the opening ceremony.