Fashionable Image from Cosmopolitan St. Petersburg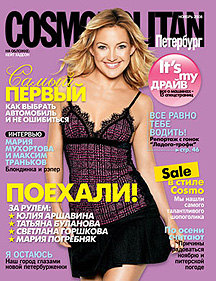 Cosmopolitan St. Petersburg acted as the informational sponsor of the StileVideniye program that airs on television channel MTV St. Petersburg.
The StileVideniye program on MTV St. Petersburg gives every viewer the chance to try a star's image on for size. The transformation takes place with the help of a Cosmo stylist who creates a truly unique fashion image for each person. After just a few hours of work by a professional, an average young woman can rival a Hollywood diva for beauty and glamor.
During autumn 2008, the StileVideniye program is being sponsored by the Atlantic City premium class trade center that offers clothing for fashion transformations. The magazine's stylist shares style secrets and the season's main fashion trends with the women featured on the program, and at the same, with the viewers.
The program airs on MTV St. Petersburg Wednesdays and Saturdays at 5 p.m., and on Sundays at 12 noon.