Harper's Bazaar Presents: Moscow on the Move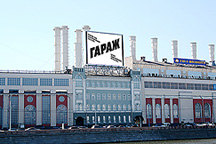 Harper's Bazaar magazine is acting as the informational partner of the Moscow on the Move video art project, which takes place from November 22 to December 22 at the Garage Centre of Contemporary Culture in Moscow and London's Serpentine Gallery.
The project will screen premieres of unique film and video art from Russia and the West. The films will run night and day for one month and will be projected on the largest outdoor screen in Moscow - at Raushskaya Naberezhnaya 10. Project participants include international artists from different generations such as Sarah Morris, Artavazd Peleshian, Doug Aitken, Douglas Gordon and Yang Fudong.
As the informational sponsor of the project, the Harper's Bazaar logo will be shown on the outdoor screen on Raushskaya Naberezhnaya, on press releases, the press wall, and on Moscow on the Move disks that will be handed out as complimentary gifts to guests at the project's opening.