Cosmopolitan at McDonald's on Children's Day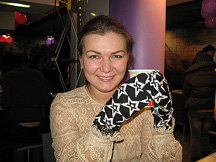 Cosmopolitan took part in the McDonald's annual charitable fundraiser dedicated to World Children's Day. On November 20, famous performers, athletes and show business stars stood behind cash registers at McDonald's Pushkinskaya restaurant. Each customer who purchased a pair of designer mittens or French fries became a participant in the McDonald's charitable project.
Among the celebrity salespeople customers could see that day were television show hosts Viktoria Lopyreva, Yelena Usanova and Dmitry Kuibar, figure skater Yelena Berezhnaya, the group Mango-Mango, soccer player Dmitry Sychev, writer Oksana Robsky and many others. Cosmopolitan magazine's editor-in-chief, Yelena Vasilyeva also took part. "I am very glad I was invited to participate in the project this year," she said, "and I can definitely say that this first effort was not a failure - all the women and couples who came to my cash register bought mittens! And the single men, who didn't have anyone to give warm mittens to, were happy to buy French fries instead. So, thanks a million to the organizers and to the customers!"
Dima Bilan was the spokesperson for the charitable project in 2007. The singer appeared in commercials aired on major television channels. Customers could help children suffering from serious illnesses by buying special bracelets at all McDonald's fast food restaurants. This year, Masha Tsigal was happy to carry on the tradition by creating exclusive designer mittens for the charitable project in place of the bracelets. "The mittens became a logical continuation of the project's symbol - a pair of outstretched hands offering kindness, warmth and good cheer to needy children," she said.
Thirty thousand McDonald's restaurants in 118 countries participated in the charitable project in support of World Children's Day. On the same day last year, over 17,000 customers visited McDonald's Pushkinskaya restaurant, where most of the celebrities were working.