Cosmopolitan Invites Readers to the Film "The Women"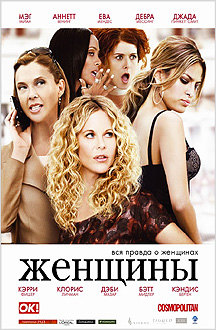 Cosmopolitan invited its friends and partners to the premier showing of the film "The Women" at the Pushkinsky Movie Theater on November 26. Cosmo is acting as the film's informational sponsor in Russia.
The film tells the story of the friendship between four smart and beautiful women. Their friendship passes through the stages of betrayal, envy, mutual assistance and love. Everyone will enjoy watching the American women's comic escapades. The film's stars include Meg Ryan, Annette Benning, Eva Mendes, Jada Pinkett Smith, Debra Messing and Bette Midler. And despite the fact that the story refers to both women and men, the director, Diane English, managed to film it in such a way that not a single man appears anywhere in the movie.
Viktoria Bonya, a host on the television program Cosmopolitan - Video Version, was selected to dub the voice of the film actress Eva Mendes in the Russian version of the film - and did very well at her new job.
In addition to the magazine's partners, Cosmo readers who had won tickets through a lottery on the website www.cosmo.ru were also able to attend the premier.