New Year's Bazaar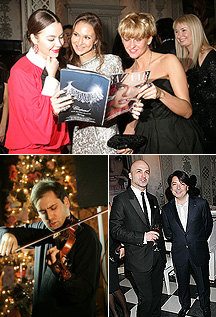 On New Year's Eve, Harper's Bazaar and the cultural-charitable foundation Planeta-Mira (Planet of Peace) gathered a close circle of friends for a charitable holiday auction.
This year's event was held in the classical interior of the Casta Diva restaurant, where a refined atmosphere of high society reigned, and which included the best traditions for conducting a charitable auction accompanied by live music. The evening's guests felt they were at a real celebration from the very first notes played by world-famous violinist Dmitry Koran -- who flew to Moscow especially to perform at the event.
Up for auction were unique, handmade Christmas toys as well as art objects made by leading Russian designers such as Igor Chapurin, Alena Akhmadullina, Denis Simachev, Vika Gazinskaya, Darya Zhukova, Pyotr Aksenov and others. The lot from Harper's Bazaar elicited a great deal of interest: a rare 1968 issue of the magazine with a one-meter-large cover photo.
All proceeds from the auction will be donated to correctional orphanages sponsored by Planeta Mira. Developmentally disabled orphans received toys, sweets and other gifts for the New Year's holiday.
The evening closed with a unique dessert: a cake in the form of the magazine's January issue with a portrait of Angelina Jolie on the cover.