"Vicky Cristina Barcelona" and Cosmo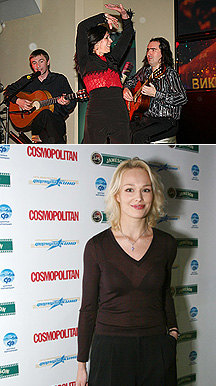 On January 13, the eve of the "old" or traditional New Year, Cosmopolitan magazine, the Central Partnership film company and the Formula Kino cinema chain invited their business partners to the premier of Woody Allen's latest comedy, "Vicky Cristina Barcelona."
This time the director prepared a Catalan dish for cinema connoisseurs, using his trademark ingredients - the love triangle and the grotesque. The story has two American women, Vicky (played by Rebecca Hall) and Cristina (Scarlett Johansson) travel to Barcelona. Vicky is engaged and Cristina goes in search of adventure. But adventure finds them instead when the women get caught up in a complicated romantic relationship with a Spanish artist (Javier Bardem) and his ex-wife (Penélope Cruz).
On the eve of its Russian premier, the film received the Golden Globe award for best comedy. That fact only served to "warm up" the interest in the film by those gathered at the event.
The showing was held at the Formula Kino of Europe. Guests listened to flamenco and enjoyed mulled Spanish wine with goat cheese. The menu would not have been complete without the most famous Spanish delicacy - dry-cured jamon (pork hind quarter) with cheese.
Another surprise awaited those who had gathered to watch the film. At exactly midnight, as the guests were leaving the theater, the organizers staged a fireworks display and handed out complimentary cups of champagne in honor of the "old" New Year.