Spring forecast from Harper's Bazaar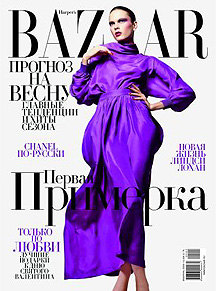 The main theme of the February issue of Harper's Bazaar is...love. Harper's Bazaar features Moscow's most beautiful couples, depicted as if they were famous lovers from the silver screen, as well as famous couples of the world.
Fashion forecast for spring. Everything you need to know about the main trends of the new spring season to make the right choices your first time out shopping. Also, how to wear and with what to match knit cardigans, steel heels, and zouave pants. Russian designers' best collections for life in the country's most fashionable city. Jewelry as sufficient ornamentation by itself.
Chanel - Russian style: The Russian spirit in Karl Lagerfeld's new collection, "Paris-Moscow." The Russian nanny, revolutionary avant-garde and secret service romance - Russia by Karl Lagerfeld.
Beauty: Arrows as the main trend of the season and the best way to catch his eye; new anti-aging substances; men's perfume that drives women wild; ratings of Moscow's best banyas with the right steam and the top seven men's gadgets about which every serious woman should know.
The best gifts for Valentine's Day that will bring luck in love for him and for her.
In the "Daily Journal" column: The new show by Sergei Zhenovach, an exhibition by Yegor Zaika, as well as the best champagne bars in Moscow, Paris, London and other hot spots, events and people.
The issue's stars: The bare truth about Mark Jacobs: The naked designer, clothed with only the Louis Vuitton logo; Lindsay Lohan on her new life as an adult, family disorders and attitudes towards girls.
The main events in high society: Elton John's concert in the Barvikha Luxury Village and other signal parties in Moscow and the world.