New Appointments at Independent Media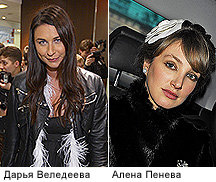 Daria Veledeyeva will become the editor-in-chief of Harper's Bazaar magazine as of March 2009. Alyona Peneva will head Grazia magazine.
Elena Razumova, cluster-director for Independent Media Sanoma Magazines, publisher of Grazia, said, "I would like to congratulate Daria Veledeyeva and Alyona Peneva on their new appointments. I am confident this will benefit both the publications, and the new chief editors themselves. With her rich experience in the fashion industry, Veledeyeva will bring new ideas and a new vision to the well-established and reputable Harper's Bazaar publication." Razumova added, "Peneva will have to plunge into Grazia, the dynamic and exciting fashion magazine that is already becoming a popular weekly. I hope that the new crisis conditions will only add adrenaline to the work process, and that we will not have long to wait for success!" Razumova said.
"We are happy to announce the naming of Daria Veledeyeva as the new editor-in-chief of Harper's Bazaar," said Lyudmila Abramenko, the publisher of Harper's Bazaar Russia. "We are confident that under her guidance, Harper's Bazaar will become even more striking, more urbane, ultra-fashionable and will strengthen its competitive position and edge in the glossy publications market. Under crisis conditions, when difficulties are inevitable for the media businesses, our task is not only to maintain, but primarily to develop our position and find new and more effective solutions. I congratulate Daria on her appointment and wish her, and the whole Harper's Bazaar team, luck and success," Abramenko said.
***
Daria Veledeyeva graduated from the Lomonosov Moscow State University department of journalism. She began her career working for three years as an editor for Marie Claire magazine. She then became senior editor for the Beauty section of Vogue magazine. A year later, she returned to Independent Media as editor-in-chief of the beauty and health magazine Top Sante. Since 2005 she has served as editor-in-chief of Yoga Journal, where she continues working now. Veledeyeva has additionally acted as editor-in-chief of Grazia magazine since 2007.
Alyona Peneva graduated from the law department of London Guildhall University. She worked as junior editor for the Beauty and Health section of Vogue Russia from 2002 until 2004, when she joined Independent Media Sanoma Magazines as Beauty and Health editor at Harper's Bazaar magazine. When work on launching Grazia magazine began in 2006, Alyona became editor of special projects for the new weekly.
Magazine profiles:
Harper's Bazaar monthly magazine was the first fashion magazine published in Russia, entering the market in March 1996. It brought with it a unique eye for fashion and style, becoming a trendsetter for women with impeccable taste and ample means and creating a niche for stylish glossy fashion magazines and lifestyles in Russia.
The first issue of Harper's Bazaar appeared in the United States more than 140 years ago, in November 1867. The magazine's history is inseparably linked with the history of fashion, photography, design and literature.
Today the magazine has earned global fame and is published in 27 countries where it has met with huge popularity. The monthly print run for the Russian edition totals 120,000 copies.
Grazia is the first fashion weekly for demanding women who want practical information. The editorial formula behind Grazia is: fashion industry news, real life stories, candid celebrity interviews, hot new beauty items, recommendations from famous make-up designers, stylists and designers, chic photo sessions by top photographers, shopping guides and reports on the hottest parties.
Grazia began in Italy in 1938. Today it is one of the leading magazines in Europe, holding the number 1 spot for fashion weeklies in Italy and Great Britain. The Russian weekly print run of the magazine is 135,000 copies.