Together with Popular Mechanics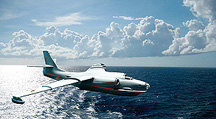 The "Together with Popular Mechanics" project continues. In March, the Central House of Aviation and Cosmonautics will team up with the magazine.
The March issue will publish articles about the history of the first hydroplanes. In addition, the museum will offer excursions for Popular Mechanics readers that will give them an opportunity to learn about the birth and establishment of Russian aviation and cosmonautics and to see rare artifacts. A themed video film will greet visitors at the conclusion of the excursion.
There is no age limit for the excursions -- it will be interesting for all, from children to adults. Free admission for the magazine's readers will be available on March 7 and 21, 2009.
More details about the project and sign-ups for the excursions can be found at www.popmech.ru. Hurry, the number of available places is limited!