Esquire Invites Readers to George Lois Exhibition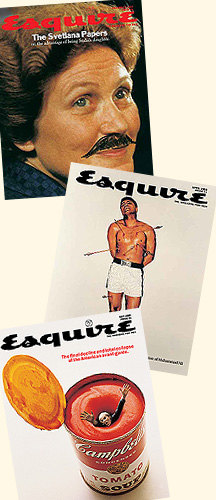 On April 15 Esquire magazine opened an exhibition of works by George Lois – legendary magazine and advertising designer as well as art director of the American edition of Esquire from 1962 to 1972. The exhibition will run from April 16 through April 25 at the M'ARS Centre for Contemporary Arts.
George Lois is in the Hall of Fame for art directors, ad men and copywriters. For his contribution to the art world, he received awards from the American Institute of Graphic Arts and the Society of Book Artists, and his creative work became the theme of special courses at the renowned School of Visual Arts in New York. In 2008, the Museum of Modern Art (MOMA) in New York acquired 32 of the magazine's covers as part of its permanent collection.
In all, 35 Esquire covers will be displayed. Visitors will be able to purchase any of the works.
All money collected at the exhibition will be donated to the Vladimir Spivakov International Charitable Foundation to help two talented young musicians achieve their dream of participating in international competitions in Bulgaria and Austria. The first is Valentin Kochetkov, a laureate of international competitions on percussion instruments and 5th grade student at the Gnessins State Music College. The second is pianist Ruslan Shainazarov, 7th grade student at the Central Music School of the Tchaikovsky State Conservatory of Music in Moscow and a laureate of several international competitions held in Austria.
The project is being conducted with support from Hennessy, the M'ARS Centre for Contemporary Art, Afishi and City FM radio.