Cosmopolitan Anniversary Issue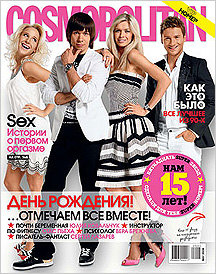 Several Russian stars appeared for the first time on the cover of Cosmopolitan. Fifteen celebrities played new roles when they took part in creating the main anniversary issue. Stas Pyekha worked as a fitness instructor, Anfisa Chekhova composed a fairy tale, Irina Toneva conducted a master class in self-defense, and Yulia Kovalchuk understood what it means to be expecting. Readers will find the contributions and experiments of the other stars in the magazine's pages.
In addition, Cosmopolitan's first editor-in-chief recalls how they worked on the first issues, readers tell how Cosmopolitan changed their lives, editors gather interesting facts about what can be accomplished in 15 seconds, minutes, hours and years. Readers will also encounter an entertaining trip back to the 1990s, when the first issues of Cosmopolitan appeared: How we talked then, what we drank, listened to and watched in the '90s, and a fashion shoot sporting the trends from that period.
A wide-scale advertising campaign will accompany the publication of this issue: outdoor advertising in Moscow, stickers in the Moscow and St. Petersburg metros, television spots on the TNT, CTC and MTV channels, radio ads on Yevropa Plus and advertisements on the Internet portals www.odnoklassniki.ru and www.mail.ru.