Independent Media Magazines in Digital Format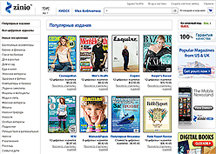 On July 13, the first copies of digital magazines from Independent Media Sanoma Magazines appeared in the Zinio.com global magazine rack for periodicals. This made IMSM the first Russian publishing house to sign a contract for distributing its publications using Zinio technology.
The first magazines to appear on Ru.Zinio.com were Cosmopolitan, Esquire, Men's Health, Harper's Bazaar, Robb Report Russia, Popular Mechanics, Mamas & Papas, Domashny Ochag and Yes! In coming days, readers will also find Cosmopolitan Beauty, Cosmopolitan Shopping, Yes! Stars and Vkusno i Polezno on the virtual sales counter.
The pricing policy for subscriptions to the digital versions of Independent Media magazines is quite reasonable. A one-year subscription to Cosmopolitan is $9.20, to Esquire - $12.90, Men's Health - $9.20, Harper's Bazaar - $15.10 and to Popular Mechanics - $5.40. On average, this is seven times less expensive than subscriptions to the print version.
The Zinio technology was introduced in St. Petersburg in late June. The project generated a great deal of interest with the Internet audience, readers and the mass media; numerous publications dedicated to the project appeared in the press and on Internet resources.