A Cosmo-Style Birthday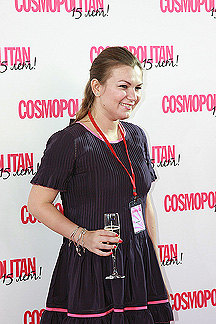 Cosmopolitan magazine's 15th anniversary celebration took place on July 15 at the La Terrasse restaurant. Friends and business partners of Cosmopolitan were on hand for the festivities, including stars of cinema and TV, show business, theatre and sports.
The guests had no chance to grow bored with an evening that included a specially equipped game zone, cocktails (including Cosmopolitan's own trademark drinks), elegant hors d'oeuvres from the La Terrasse chef and a full concert program.
The inimitable Leonid Barats and Rostislav Khait of the Quartet I comedy theater acted as the evening's hosts, serving up plenty of humor and good spirits. Their energy, together with the river of Asti Mondoro champagne enjoyed by the guests, prepared everyone to give a warm welcome to the Disco Disaster musical group, who arrived a bit late. Everyone began energetically dancing to familiar hit songs and the temperature in the hall started to rise. That sent some guests out into the fresh air, where they stood beneath a special awning and happily posed before photographers' cameras and chatted with friends.
Disco Disaster was followed by a special guest - Inusa Dawuda, a star of the European charts. He not only sang fiery hits, including his latest hit of the year, Digi-Digi, but also improvised on the saxophone in tandem with the famous DJ Ivan Martin. Those who could not find a spot on the dance floor burned up calories on arcade dance machines or competed with each other on the WII Sport Resort arcade game.
To the strains of ABBA's Happy New Year, the Russian edition of Cosmopolitan magazine and its guests ushered in the start of its 16th year with a triple layer cake from Cake-boutique.ru. The magazine's editor-in-chief, Yelena Vasilyeva, was given the honor of cutting the work of confectionary art.
In attendance to congratulate the magazine were Alexander Gafin, Alexander Mitroshenkov, Dmitry Nosov, Stas Pyekha, Viktoria Bonya, Leonid Zakoshansky, Dmitry Glukhovsky, Yekaterina Volkova, Andrei Razygrayev, Yulia Kovalchuk, Leonid Rudenko, Prokhor Shalyapin, Cornelia Mango, VJ Archie, Tutta Larsen, Viktoria Lopyreva, Elektra, the In-Yan group, Anastasia Stotskaya, as well as Star Factory finalists and participants.
According to popular tradition, no guest went home without a complimentary gift.
Cosmopolitan magazine has been published in Russia since 1994. For 15 years already Cosmopolitan has led its market segment thanks to its topical subject matter, its inimitable ironic style and its fidelity to its readers and their interests.
Those wishing photographs and commentaries should contact Anna Porisenkova at a.porisenkova@imedia.ru.