Party for Cosmopolitan and Men's Health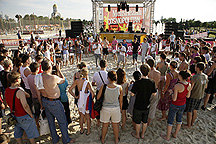 A joint party for Cosmopolitan and Men's Health magazines took place on July 18 at Poklonnaya Hill. The celebration was part of the Moscow stage of the Grand Slam World Beach Volleyball Series held from July 13 to 19.
All Muscovites and visitors to the capital who happened to be on Poklonnaya Hill that evening moved from there down to the beach. The weather, a great mood, soft sand, and of course, the entertaining program prepared by the two publications – that included numerous and varied contests and gifts – added to the fun.
 
The atmosphere was very relaxed, with all of the party guests playing badminton, volleyball and Frisbee barefoot on the sand. Roman Klyachkin and Ilya Sobolev of the Krasivye Duet (a Comedy Club Production) were blazing along with the guests, giving updates on what was happening on the stage during the breaks. The party program included the Marakatu drum show, the Scotch dance ensemble, members of the One More Day parkour team, the Wordplay group and Tesla Boy. The evening finished with a set from DJ Vinilkin.