Harper's Bazaar: Everything Anew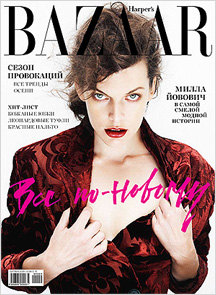 The new season's trends: what to wear, read and do this fall.
Orienting points: leather skirts, leopard shoes and red coats.
The new seasons' main rules: deep girth shoulders, leather coat – how to wear and what to combine with. Steaming floor-length skirts, proper jackets, jackboots and other fresh solutions for the fall from the point of view of best stylists. What your clothes tell about you – Harper's Bazaar investigation.
Beauty: new make-up trends from top visagistes' first lips. Beautiful hair at every age – experts' advice. Secret beauty addresses: representatives of the humanity's strong half in beauty salons.
Diary: releases, fashion shows, premieres and other events must-to-go this fall. Venice from within: where to go, what to see, where to live. Clubs in the fall: new significant places on the Moscow club map.
Stars of the issue: Mila Yovovich in the most challenging fashion shoot – in Harper's Bazaar only. Fanny Ardant about love, faith, passion and medicine good for life – in the exclusive Harper's Bazaar interview. Carl Lagerfeld revives the image of Peggy Guggenheim – luxurious haute couture toilettes in the frame of channels and monuments of Venice. Naomi Campbell in search of adrenaline bazz in savanna.
Society column: Chanel Paris-Moscou collection show, Dolce & Gabbana party in Cannes, Harper's Bazaar fashion performance and other important events of high life.
The issue is on sale from September 1st.