Harper's Bazaar at Baku Film Festival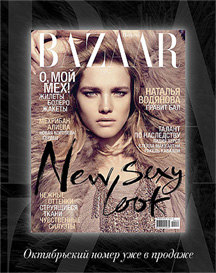 Harper's Bazaar acted as fashionable society partner to the East-West International Film Festival in Baku, which took place from September 18 to 23 and is held under the patronage of the president of Azerbaijan.
According to tradition, the festival program included films that have already earned honors at various film contests. Among them were a host of movies by Russian filmmakers such as Russkaya Igra (Russian Game), directed by Pavel Chukhrai, Artistka (Actress) by Stanislav Govorukhin, Izgnanie (Exile) by Andrei Zvyagintsev, Gruz 200 (Cargo 200) by Andrei Balabanov, and a completely new work - Aleksandr. Nevskaya Bitva (Alexander. The Nevsky Battle) by Igor Kalenov. During the six-day festival, film lovers had a chance to watch movies by filmmakers from Azerbaijan, Iran, France, Kyrgyzstan, Latvia and Poland.
At the closing ceremony on September 23, photographs of the film festival's most fashionable guests were displayed at the exhibit "The Film Festival through the Eyes of Harper's Bazaar."
In 2009, Baku was declared the capital of Islamic culture. According to Azerbaijan Culture and Tourism Minister Abulfaz Karayev, the East-West festival will be a key event of the year and will include numerous activities united by the spirit of dialogue of civilization and culture.