Harper's Bazaar: Preparing for Winter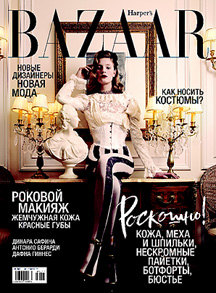 Prepare for winter with the luxurious November issue of Harper's Bazaar. The issue's theme – luxury in all of its manifestations: fur, stiletto heels and busts.
Only in Harper's Bazaar – new designers and the newest coming fashions.
In this issue: Dinara Safina reveals how to become the top-seeded tennis player in the world, and what she would do if she didn't play tennis. British model Rosie Huntington-Whiteley explains how to make a bid for world glory and talks about glamour while showing off the season's most stylish best leather items.
In baroque style: unafraid to wear daring miniskirts with long hose and narrow corsets with high heels.
Finds: secrets of Ferragamo, a revolutionary in shoe manufacturing, new collections from young designers and a brief guide to Twitter.
Details: composite style from Victoire de Castellane, advice on how to wear suits from Alen Isayev, handbags made from sheepskin, fox and mink, as well as biker-style drive boots and rockers' handbags.
Diary: for those who dream of the stage and standing ovations – the five best voice instructors, cultural events in November, travels in Venice, Rome, Denmark and Cost Brava.
Beauty: real diets from four beautiful women, instructions on perfecting your figure, everything about organic cosmetics, hot make-up trends and much more.
Flash: the most luxurious party of the season according to the Harper's Bazaar high society editor.