Harper's Bazaar at Millionaire Fair 2009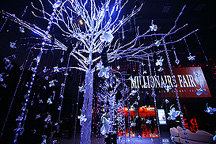 Harper's Bazaar magazine will take part in the fifth annual amazing celebration of luxury – the Millionaire Fair, to be held at the Moscow Manezh from October 23 to 25.
Guests of the exhibition will witness sensational premiers and presentations by world famous brands. With the opening of the Millionaire Fair Moscow, many people's dreams of elegant luxury will become a reality; the millionaire's exhibition is an indispensable venue for launching new trends in Moscow's high society, and making an appearance at the legendary opening ceremony of the Millionaire Fair has long been synonymous with success and membership in the elite circle of the chosen.
Harper's Bazaar presents an original installation titled "At the Peak of Style" – exclusive fashions, elegant accessories, luxury and the unsurpassed style of the magazine. Visitors will see everything that is an intrinsic attribute of the high society of millionaires.
The Harper's Bazaar logo will be placed on all outdoor printed materials at the fair.