Harper's Bazaar at Moscow Motion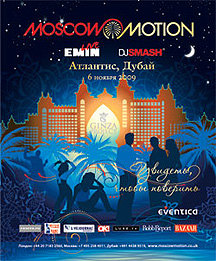 Harper's Bazaar magazine is acting as the high society partner to the Moscow Motion party held as part of the economic forum in Dubai. Moscow Motion is an annual event that brings together the most illustrious members of the Russian and foreign elite. The project's main goal is to introduce the international audience to the new generation of successful, talented and creative Russians who are forming the country's new image overseas.
Moscow Motion will be held on November 6 on the picturesque beach of the luxurious Atlantis Hotel under the endless sky and magical light of Arabian stars. The main decoration of the evening will undoubtedly be the captivating view of the Persian Gulf and nighttime Dubai, with its thousands of lights reflected in the watery expanse, as well as the impressive above-water scene.
The Moscow Motion program includes an exclusive concert by the inimitable Emina Agalarova and continues with a thrilling set by the most sought after Russian disc jockey – DJ Smash. Moscow Motion guests include businesspeople, politicians, celebrities of sport, film and show business, journalists and, of course, trendsetters.