Dreaming Away with Harper's Bazaar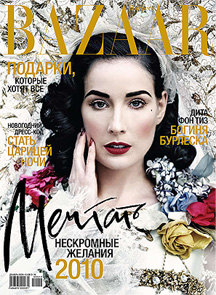 The December issue of Harper's Bazaar will be released. The issue includes: wishes for 2010 – and what you don't need to be afraid to wish for.
Exclusive in this issue – Dita Von Teeze as an angel with her tempting soul and body.
Also: A shoot with Peter Lindbergh: What should you wear this winter to retain your body heat and your individuality? Dancing with Bakst: the imprint on art and fashion made by one of the creators of "Russian Seasons" in Paris. Winter evenings in Cannes: sharp outlines and gaudy lights in the Lagerfeld "beach" fashion session.
Finds: time to combine casual and luxury. The best collections and shows in New York, Milan, London and Paris. What's new, what's needed and what's best. Important advice from Bazaar.
Details: Choosing the right evening outfit. Only the future will tell how fashion shows will change. Rhinestones, sequins and sparkles for the New Year. Decorations from emeralds. Chanel accessories designer on style. Jewelry news. Everything on gifts for yourself and your close ones.
Journal: Accurate predictions for next year. What to watch, listen to and read in December. A review of hotels in Paris and New York. All of the most fashionable things are made in France.
Beauty: Make-up by Givenchy. New techniques from Valmont. The spa in the Martinez hotel in Cannes. All the very best: lipstick, creams and fragrances.
Flash: Harper's Bazaar chooses the hottest parties of the season.