Popular Mechanics in December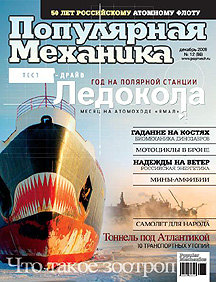 The polar exploration of the Russian Arctic is the main theme of the December issue of Popular Mechanics. Magazine editor Dmitry Mamontov joined the latest polar expedition and spent an entire month aboard the atomic-powered icebreaker Yamal. Mamontov's material consists primarily of his personal impressions and interviews with members of the "heroic professions."
An article for lovers of "the best of the best" covers the Ig Noble Prize of 2009 for the strangest and most ridiculous achievements in science, art and economics, as well as material on the most striking – and often, utopian – transportation projects of the future.
Also in this issue:
Wind power prospects in Russia and the world;
Cutting-edge automobile production technology;
Special effects used in the blockbuster film "2012";
The history of early devices for creating the illusion of moving pictures.
This December issue of Popular Mechanics contains a first-time special New Year's insert – a unique aid for choosing the most interesting "mechanical" New Year's gift for any male "type." It takes into account the interests of the "society lion" and the "executive manager" without overlooking the "erudite," the "hunter," the lover of "extreme" adventure, and still leaves plenty of room for the "gadget-lover" to fantasize. And special for this insert, the PM editorial board staged an egg-cookers' race, tested several automobiles and studied the national idiosyncrasies of fishing in winter.