Harper's Bazaar: The Call of Spring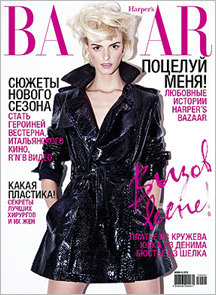 The February issue of Harper's Bazaar will soon be released. The theme: the call of spring – how to greet the new season fully equipped.
Exclusive in this issue: Lizzie Jagger models spring's hottest looks.
Also in this issue: Jacquetta Wheeler in a home "built" by Dior. Fomenko theater actresses explain the usefulness of passion. The Harper's Bazaar collection of kisses.
Finds: The American style as expressed by Tory Burch. Tavi Gevinson: young fashion blogger on spring shows in New York. New D&G shop on Kuznetsky Most.
Details: The trends of spring and summer 2010. From catwalk to closet: the actual lives of the season's hottest trends. The most stylish rings, elegant watches and unique brooches.
Journal: what to watch, listen to and read in February. The Beverly Hills Hotel: a retro hotel in the very heart of Hollywood. Moroccan nights and Indian weddings.
Beauty: Kate Moss – the "face" of a new YSL fragrance. Time doctor: the leading Clinique dermatologist on progressive ways to preserve your youth. All of the very best: lipsticks, creams, aromas and new biocosmetic products.
Flash: the hottest parties of the season as selected by Harper's Bazaar.